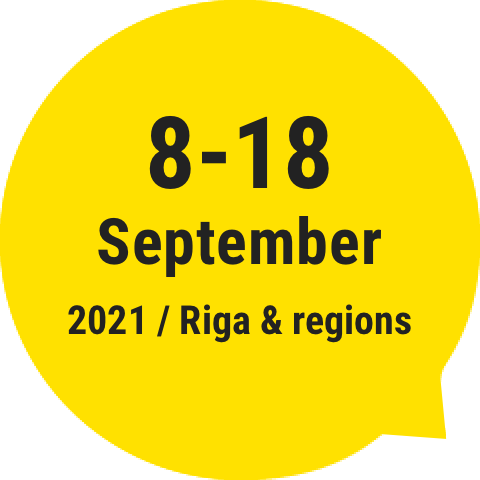 Info
This year's international festival of contemporary theatre "Homo Novus" will speak clearly about the uncertainty in various fields of ideas.
Bek Berger | Programme curator
Nice To Meet You Again
This last year has changed us. The new circumstances have made us all realize the value of the simplest things often taken for granted, things like human contact, presence, touch or awareness that even on our own we are always connected in a variety of ways. But we have also witnessed that interruption doesn't mean the end. Although the time spent in separation and isolation has emptied our reserves, we have endured a long time, each individually and all together. Nothing strengthened us better on these days than the thought of coming back to life and meeting again. But how is it going to be?
From September 8 to 18, the International New Theater Festival "Homo Novus" will take place again in Riga and several regions of Latvia. In our 26th year of existence, we want to speak clearly about the uncertainty in the various fields of ideas – artistic and social, personal and shared, ecological and biological. We want to build the festival's program even more closely with the viewer, allowing us to imagine a future and a society where we notice, value each other and where collective joy is always present and alive.
These are values and practices that contemporary theater and the Homo Novus Festival have always sought to bring to the fore, but this year in particular we want to state that individual experience is not enough – we must to look ahead, embracing a wider and more diverse society, we must continue to cause unrest, to address, to open, to hurt, to heal each other, to take steps in unknown territories together.
We want the festival to become a meeting of these different ideas and expectations in the city and beyond as a confirmation of our common growth. There are things that cannot be experienced individually, such as the joy of reunion. Let's meet again!