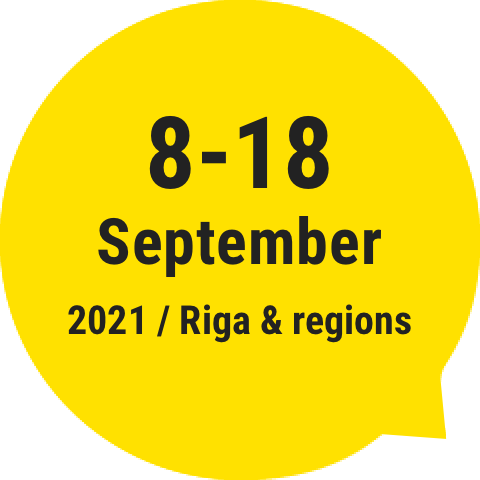 Programme
LISTENING
Live Art Society (Helsinki)
11 & 12 September Gertrude Street Theatre | €15 / €10
Listening is a live art solo performance that introduces the audience to sound frequencies and means of communication that are easily disregarded in human interaction. In the performance Silva Belghiti communicates through her mother language (sign language) and lets it slide into dance and back. The performance constructs a body conscious space and creates a time where one can fall into the details of different ways of existing.
To ensure the safety of our audience, artists and team, the attendance of the festival in person will only be possible when presenting a Covid-19 certificate that proves the fact of vaccination or recovery from the illness within the past six months and an identity document. Therefore, unfortunately, the festival may only be attended by persons 12 and up this year.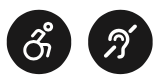 Accessibility
Description of access: on arrival you have to cross the yard with a very uneven surface. It is recommended for people with mobility impairment to come by car through the gate to the entrance of the theater. Ramp at the entrance floor, which requires assistance. The building has an elevator. Raised thresholds at the doorways.
ABOUT ARTIST
Live Art Society is an independent, Helsinki based performing art group founded in 2005. It consists of 44 members from several fields of arts: actors, choreographers, dancers, directors, technical designers, scenographers etc. Long work processes and seeking new forms within performing arts are common interests for all the members. Besides artistic creation the group arranges studies and rehearsals for its members, and aims to improve the collaboration between the free groups of contemporary theatre, live art and performance art in Helsinki and in Finland.
CREDITS
Performer: Silva Belghiti
Direction: Joel Teixeira Neves
Sound design: Johannes Vartola
Scenography: Samuli Laine, Kauri Klemelä
Costume design: Ines Kalliala
Graphic design: Samuli Laine, Mika Haaranen, Mikael Neves
Producer: Veera Lamberg / Live Art Society
Local producer: Evija Sedola
Subtitles: Mika Haaranen
Supported by: Live Art Society, Kiasma Theatre and Tampereen Työväen Teatteri; TINFO – Theatre Info Finland (LUO programme), Nordic Culture Point, Arts Promotion Centre Finland
Language
Designed for deaf and hard of hearing audiences. Finnish sign language with English, Russian and Latvian subtitles.
Supported by