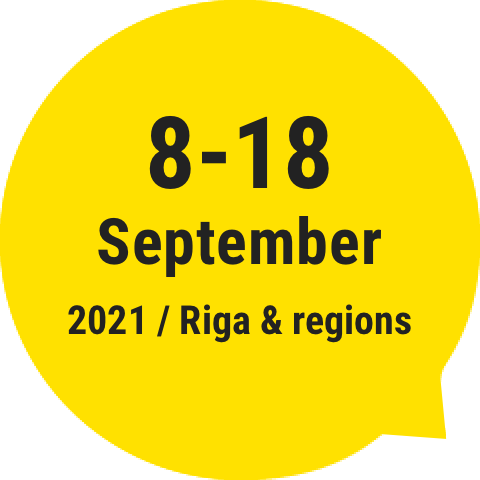 Programme
Not Yet
Keith Hennessy (San Francisco)
18 September Vidzemes Market | Free event
Not Yet is an experiment in collectivity and healing responding to contemporary political crises. Pulled by the future towards the unknown, the performance reveals a practice of queer embodiment. Working quickly in an intensive laboratory of experimental dance, improvised performance, heart sharing, and political discussion, Not Yet will be a brief "moment" that fucks with the norms of time, capital, power, and imagination.
To ensure the safety of our audience, artists and team, the attendance of the festival in person will only be possible when presenting a Covid-19 certificate that proves the fact of vaccination or recovery from the illness within the past six months and an identity document. Therefore, unfortunately, the festival may only be attended by persons 12 and up this year.
ABOUT ARTIST
Dance artist Keith Hennessy has been crafting performances since the early 80s. He stages his work in theaters, beaches and protests, fusing performance art with community activism while softening the barrier between audience and performer. Hennesy's performances prioritize collaboration and improvisation, combining dance, text, creative risk, and visual imagery, and they frequently address issues of racial capitalism, sexual healing, and political injustice.
CREDIT
Concept, direction: Keith Hennessy
Performers: vietējie dejotāji / local dancers
Producer: Ina Ločmele, Horeogrāfu asociācija
Supported by: ASV vēstniecība Latvijā / US Embassy in Latvia
Language
In Latvian and English