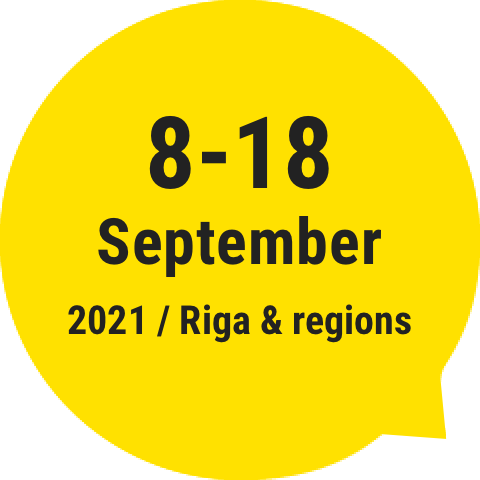 Programme
Witness Stand
Madeleine Flynn, Tim Humphrey (Melbourne)
9 - 18 September In various outdoor places in Riga | Free event
How do we understand where we are through listening? Witness Stand is an unlikely place to listen. Across a city, in water bodies, restricted and forgotten sites, Witness Stand Rīga is an invitation to gather and listen together to works that respond to the ancient, recent, and future stories of the city. On a series of bespoke seating tiers extending from the Beach at Bolderāja to the ancient Oak at Sarkandaugava, seated alongside local musicians and poets, audiences will experience a series of specially commissioned works from across the communities of Riga.
Together, we direct our gaze towards sites of contestation, cultural potency, and sites for celebration, listening towards the future.
To ensure the safety of our audience, artists and team, the attendance of the festival in person will only be possible when presenting a Covid-19 certificate that proves the fact of vaccination or recovery from the illness within the past six months and an identity document. Therefore, unfortunately, the festival may only be attended by persons 12 and up this year. Some of the Witness stand events will be broadcast online on Public broadcasting of Latvia LSM.LV.
We inform you that photographs and videos will be taken at the events. By being present in the event area, you acknowledge that you are aware of the possibility of being included in the audio or visual material.
Daugavgrīva beach near Bolderāja shipyard
9.09. at 17:00, 19:00 → Tickets
Witnessed by music bands "Alejas" (17:00) and "Toms Vītiņš & Uģis Vītiņš" (19:00), poet Fyodor Dzevaltovsky
Access by public transport: with the bus 3 or 36, bus stop "Daugavgriva Fortress". 1 km along Flotes Street in the direction of the sea until the sign for the Homo Novus Festival, where you turn left and walk to the parking lot (approximate address is Flotes Street 9C). From the parking lot there will be a nature trail to the beach with the festival signs. The walk from the bus stop is about 30 minutes. Total time from the city center: 1 h 30 min.
By car it is about 20 minutes drive from the city center to the parking lot near Flotes Street 9C. There will be a festival sign on the left side of Flotes Street. Walk from the parking lot to the beach takes about
15 minutes.
Please consider the time it takes to get to the beach. Choose comfortable shoes and weather-appropriate clothing. The works will be made available online to those who cannot access the space.
Vanšu bridge, bank building "Saules akmens" forecourt
11.09., 12.09. at dawn 6:30 → Tickets 
Soundwork by harpsichord player Ieva Saliete and poet Ilmārs Šlāpins in honor of the 40th anniversary of Vanšu Bridge.
The sightseeing spot on the river banks near the "Swedbank" building "Saules akmens". Access on foot from Vanšu bridge or with public transport, bus stop "Ķīpsala".
Location of the former radio jamming towers. Pērnavas street 6
10.09., 11.09., 12.09. at 17:00 → Tickets
Witnessed by sound artist Andris Indāns and poet Sergei Timofeyev. Accessed from the courtyard at Pērnavas street 6, following the festival signs. The nearest public transport stop – "Pērnavas iela".
Oak tree in "Duntes ozoli", near Ozolu Street 5
15.09., 16.09., 17.09. at dawn 6:30 → Tickets
Witnessed by kokle player Laima Jansone and poet Agnese Krivade. Accessed from Duntes Street, following the path opposite the supermarket "SKY", there will be a visible sign of the festival on the streetside. Nearest bus stop is "Ozolaine / Maritime Medical Center".
Benches in the Great Cemetery, near Klijānu Street 31
15.09., 16.09., 17.09. at sunset 19:30 → Tickets
Witnessed by composer Olesya Kozlovska and poet Elvīra Bloma with live music performers Jāni Frīdenfeldu (trumpet) and Sarma Gabrēna (cello).
Access from Klijānu Street. Enter the Great Cemetery next to Klijānu Street 31 and follow the signs of the festival. The nearest tram stop – "Brasas stacija".
Former Central Committee of the Communist Party, Elizabetes Street 2
17.09., 18.09. at 18:00 → Tickets
Witnessed by Jēkabs Nīmanis, Maksims Šenteļevs together with poet Inga Gaile and audience.
Access from the parking lot at Elizabetes Street 2, follow the festival signs on the right side.
ABOUT ARTIST
Madeleine Flynn and Tim Humphrey are Australian artists who create unexpected situations for listening. Their work is driven by a curiosity about sound, site, technology and ecologies and seeks to evolve and engage with new processes and audiences, through public and participative interventions. Their highly awarded practice intertwines local, national and international relationships.
CREDITS
Concept: Madeleine Flynn, Tim Humphrey
City-dramaturge: Santa Remere
Composers, musicians: grupa "Parks" (Toms Vītiņš, Uģis Vītiņš), grupa "Alejas" (Kirils Ēcis, Spāre Vītola, Reinis Žodžiks), Andris Indāns, Laima Jansone, Ieva Saliete, Oļesja Kozlovska, Jēkabs Nīmanis, Maksims Šenteļevs, Anastasija Isakova, Sarma Gabrēna
Poets: Sergejs Timofejevs, Elvīra Bloma, Ilmārs Šlāpins, Fjodors Dzevaltovskis, Agnese Krivade, Inga Gaile
Producer: Ieva Briede, Latvijas Jaunā teātra institūts
Photo: Bosco Shaw
Implemented as part of project BE PART. Supported by EU programme Creative Europe.
This ongoing project has been created and developed with Live Umbrella Finland and Bureau of Works; assisted by the Australia Council for the Arts, Vitalstatistix, Dark Mofo, and the APRA/AMCOS Art Music Fund. Witness Stand was originally commissioned for Perth Festival 2021.
In various outdoor places in Riga
Free event
Register below