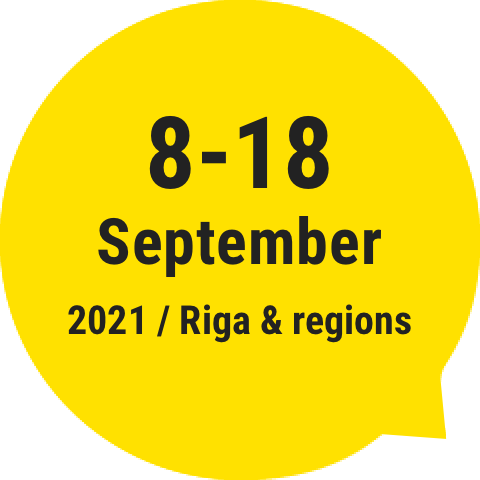 Programme
Bee Matter
Iveta Pole (Riga)
7 & 8 September Hanzas perons | €15 / €10
Becoming the Queen is a matter of luck. The female Queen is selected early in larval development and leaves the hive once in her life for the virgin flight. She is the reproduction centre of the matriarchal hive. Without a queen, life in the hive grows chaotic.
This mixed media performance addresses the challenge of manifesting the complex reality through the extended metaphor of bees and is structured through three main agential types: a Queen, a drone and a worker. The indivisibility of reality suggests to us ever-widening circuits of existence, located in the agential manifestation of life.
To ensure the safety of our audience, artists and team, the attendance of the festival in person will only be possible when presenting a Covid-19 certificate that proves the fact of vaccination or recovery from the illness within the past six months and an identity document. Therefore, unfortunately, the festival may only be attended by persons 12 and up this year.


Accessibility
Description of access: site with good amenities, parking spaces for people with disabilities. Outdoor terrace with comfortable, sufficiently flat ramps. Adapted bathroom facilities in the basement of the building next door. The show is distinctly visual and musical.
ABOUT ARTIST
Iveta Pole is a Latvian performance artist and actor. She began her career at the New Riga Theatre, being part of one of the most acclaimed acting troupes in Latvia. She has also starred in both local and foreign cinema and has been twice recognized as the Best Actress at the Lielais Kristaps National Film Awards. Pole has always been intrigued by the unknown territories between art disciplines. Therefore, she has accomplished MA studies in Contemporary Physical Performance Making at the Estonian Academy of Music and Theatre, which served as a new platform for analysing the potential of strategies for different artistic expressions.
CREDITS
Idea, Direction: Iveta Pole
Video: Katrīna Neiburga
Composer: Anna Ķirse
Sound Designer: Andro Manzoni
Voice: Jānis Kokins (Latvian Radio Choir)
Drums: Kaspars Kurdeko
Double bass: Reinis Ozoliņš
Performers: Johhan Rosenberg, Jette Loona Hermanis, Lea Sekulic, Iveta Pole, Jana Jacuka, Klāvs Liepiņš
VJ/ 3D filter: Emer Värk
Beekeeper: Erki Naumanis
Producers & co-producers: INITIUM, Estonian Cultural Endowment, Estonian Academy of Music and Theatre
Photo: Alan Proosa
Implemented as part of ACT: Art, Climate, Transition project, supported by EU programme Creative Europe
Language
Mixed languages, printed song lyrics in Latvian and English
Highly visual and musical performance
1h40/ 16+
Supported by