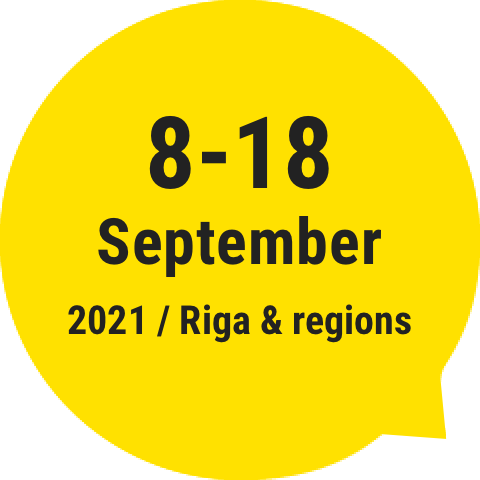 Programme
Nurture
Samuli Laine (Helsinki)
12 - 18 September Vidzemes Market | €10
Nurture is a one-to-one performance which makes space for tenderness and vulnerability. Through the act of breastfeeding, it investigates the politics of care, gender and coexistence. The performance invites you to examine the interdependent nature of life: the countless networks of human communities as well as the biological processes that sustain our bodies and enable life on earth.
To ensure the safety of our audience, artists and team, the attendance of the festival in person will only be possible when presenting a Covid-19 certificate that proves the fact of vaccination or recovery from the illness within the past six months and an identity document. Therefore, unfortunately, the festival may only be attended by persons 12 and up this year.


Accessibility.
Description of access: we recommend arriving from Brīvības Street. You may have to overcome uneven coverage in the Market area. The events of the festival will take place in 3 venues in the market area, which are located close to each other. One-to-one performance where the audience member must lie on the floor!
ABOUT ARTIST
Samuli Laine is a scenographer, performance maker and member of the W A U H A U S arts collective and Reality Research Center. He holds Master's degrees in Scenography (2011) and Lighting Design (2014). Laine is at the moment interested in utopias, gardening, activism and zazen.
CREDITS
Concept, performance: Samuli Laine
Ryas: Laura Jantunen
Soundscape: Jussi Matikainen
Mentoring: Jarkko Partanen, Jussi Matikainen
Producers: Samuli Laine, Todellisuuden tutkimuskeskus, ANTI – Contemporary Art Festival
Photo: Filippo Zambo
Implemented as part of ACT: Art, Climate, Transition project Supported by EU programme Creative Europe.
Language
In English or Finnish
25 min
12. 17.-18. 1100, 11.30, 12.00, 12.30, 13.30, 1400, 1430, 1500, 1600, 16.30 & 1700 /// 14.-15. 1400, 1430, 1500, 1530, 1630, 1700, 1730, 1800
Supported by