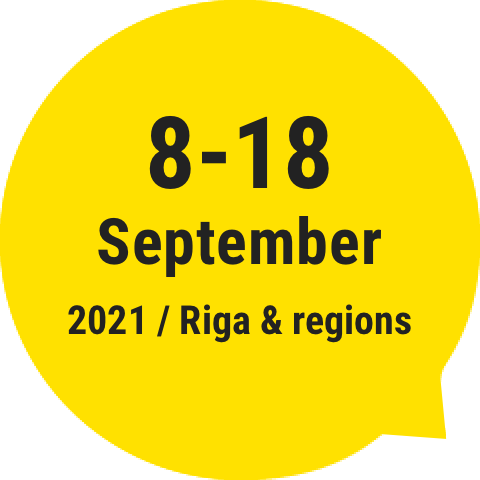 Programme
In the Name of Love
Katrīna Dūka (Rīga), Barbara Lehtna (Pärnu)
12.09. at 15.00-17.00, 14.09.,15.09.,16.09 at 16:00-18:00 Vidzemes Market | Free event
Visiting performance In the Name of Love is an artistic work co-created with a local group of Latvian people who identify as LGBTQAI+ and who have lived a queer life in Riga during different political eras. The process of making the work is an investigation into how LGBTQAI+ people experience private moments in public space and how these experiences can be transformed into a performative situation of taking ownership of one's own image. In the Name of Love invites you to experience a transit from safe distance to close proximity with strangers over a course of 4 days in several locations in Riga.
The audience participate in the show with their presence. The event takes place at three different spots in the Vidzeme Market. The viewers are invited to move between them and scan the QR at each location with their phones. The location's map and additional information will be provided on site.
To ensure the safety of our audience, artists and team, the attendance of the festival in person will only be possible when presenting a Covid-19 certificate that proves the fact of vaccination or recovery from the illness within the past six months and an identity document. Therefore, unfortunately, the festival may only be attended by persons 12 and up this year
Performance with audio or text description suitable for deaf and hard of hearing, and visually impaired viewers.
ABOUT ARTIST
Katrīna Dūka (LV) is an artist with a background in creative producing and dramaturgical thinking.As of 2020, she is pursuing a Master's degree in Performance Practices at the ArtEZ University of Arts (NL). Katrīna is intrigued by the notions of queerness, togetherness and radical intimacy and she is interested in understanding how to evoke them in post-soviet societies.
Barbara Lehtna (EST) has worked as a performance maker for more than six years. Barbara acquired a Master's degree in Performance Practices from ArtEZ University of Arts (NL) in 2021 where she researched such topics as ethics, agency, and queerness in participatory performance. Barbara is interested in mixing different genres of performance in order to evoke change in her surroundings.
CREDITS
Concept, direction: Katrina Dūka, Barbara Lehtna
Participants: LGBTQAI+ people of Riga
Producer: Renāte Saulīte, Latvijas Jaunā teātra institūts
Photo: Katrīna Dūka, Barbara Lehtna
Implemented as part of project BE PART. Supported by EU programme Creative Europe.
12.09. at 15.00-17.00, 14.09.,15.09.,16.09 at 16:00-18:00
Language
With audio or text description in Latvian, Russian, and English
Please bring your own headphones and a charged cell phone with internet connection and QR code reader application. Additional devices will be available at the Festival info centre in Vidzemes market.
Supported by